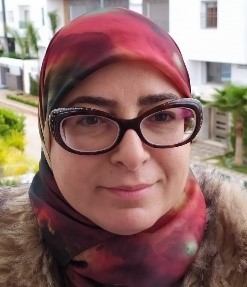 Ahlame Begdouri
Mrs Ahlame Begdouri obtained her Bachelor degree in Computer Sciences from the Faculty of Sciences of Rabat, Mohamed-V University (1994), a master degree (CUES) in Computer Sciences from the Mohammadia Engineering School of Rabat (1996) and a PhD from the Faculty of Sciences of Rabat (1999) on the Quality of Service (QoS) of multimedia traffic over Internet. She was a trainee professor at the Mohammadia Engineering School of Rabat (1996-1997). She joined the Faculty of Sciences and Technology of Fez in 1997 as professor of Computer Sciences at the department of Mathematics then as Professor at the department of Computer Sciences since its creation in 2002.

Mrs. Begdouri is an active member of IEEE since 2009. She joined the IEEE Morocco Education Chapter in 2012 and was the chair of the same chapter between 2016-2018. She received in 2016 the "Technical English Award" prize awarded by the IEEE Morocco-Section in recognition of her efforts in designing the IEEE Technical English Program Initiative (TEPI) and in conducting, since 2011, a series of trainings that benefited both students and professionals.

She has been involved in many international funded projects with several partners as the MIS Lab (France), CTM (Spain), REDDIN SRL and CUBIT S.c.a.r.l (Italy), HSM Lab (France) and Berger-Levrault Company (France). She was the coordinator of the FP7 capacity project MoICT "Morocco research advance in ICT for water" (2011-2014), the local coordinator of the AUF funded project DISCOMOB "DISpositif COmmunautaire et MOBile" (2013-2015), associate member of the Moroccan FP7 ICT-NCP "National Contact Point" (2010-2013) and consortium member in a CIFRE funded project (2019-2021).

She is the co-founder of the E-NGN (E-Next Generation Networks) Africa and Middle East research group (2008-2012) and its international conference series, member of "Learning & Research in Mobile Age" LeRMA research group (2010-2012), both located in the ENSIAS engineering school of Rabat, founding member and general secretary of AMIIS (Association Marocaine en Ingénierie et Inovation en Santé) located at the FMP of Fez (since 2016), head of the VIA research group "enVironnement Intelligents & Applications" in the SIA lab "Systèmes Intelligents et Applications" of the FST Fez since its creation in 2011.

She is currently certified as Huawei instructor in Routing & Switching (HCIA Instructor certification in 2019), guest editor of the iJIST (International Journal of Information Science and Technology) for the special issue on LED-ICT (Learning Disabilities and ICT support). She is co-author of more than 30 papers and book chapters appeared in referred symposia, magazines and journals.

She was the general chair of the APEL'2016 Conference and the general chair of the 1st international workshop on Next Generation Networks (WNGN'08). She was involved in several national and international conferences as member and chair of the program committee.